I used to have some broken patterns when relating with women. I would pursue women from a place of validation, neediness and insecurity—from a place of trying to fill some void or prove myself, only I wasn't aware of it. That unconscious pattern was keeping me from what I wanted and adding to my fears of "not being enough."
Let me tell you a story, and you'll see what I mean.
This story is about a girl.
I met her back in 2008. It was the beginning of an all too familiar journey of texting, flirting, Facebooking, and other varying degrees of pursuit. There are some additional background details here, but I'm going to fast forward to August of 2011— where the real disaster awaits!
By this time, we had met in person a few times and had been getting more "serious" in our online communications.
We decided to take things to the next level, so we made plans to see each other on a trip I was making to a wedding up in Portland, near where she lived. I stayed a few nights with her at her parent's house at the beginning of a two week trip.
Most of our interactions over the course of those few days were awkward as hell! I wasn't being clear with her about what I wanted because I was afraid of her answer. I was needy, insecure, and anxious— the perfect cocktail for blue balls. Instead of enjoying my desire and putting attention on having fun and enjoying myself, I was being consumed by my own fear. That contraction in my chest was not allowing any space for her fears, for her experience.
The result: she pulled away. Even though we made plans to see each other a few times after I left her house, she completely avoided me.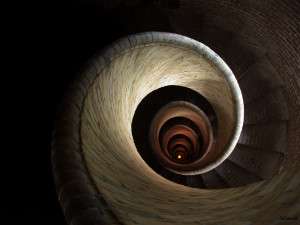 Begin. Downward. Spiral.
Every unanswered text was like a knife pushing deeper into my insecurity. Fuel for my fear— "see, you can't put yourself out there, you'll just get hurt."
I wish I could tell you I was able to turn it around and show up differently with her, but I wasn't. I went back home to San Diego, totally devastated. I had put a lot of chips on the table with this girl, but I wasn't doing it consciously. I was showing up and offering her brokenness instead of wholeness.
Looking back, I definitely don't blame her for how she reacted. This failure, along with some other troubling life circumstances, was "rock bottom" for me. I knew it was time to make some changes. Through the help of my brother, and the Authentic Man Program, I got back on my feet and completely changed the way I was relating to women. To the way I was relating to my life.
AMP taught me that nothing outside myself can make me whole.
I am already whole.
The me before this story, before AMP, was still a virgin. I had only kissed 3 girls. I hadn't really been in a real relationship. I was insecure, desperate, and broken.
The me now is in an incredible, affirming, expressive, fun, and open relationship. The me now has had lovers all over the world. The me now recognizes that I am whole. That my desire is a gift. That my gifts don't have to be reciprocated to be felt and given.
If you resonated at all with this story—consider taking the plunge into the AMP Intensive.
With the support of brother's who have gone before you, and the radiant AMP women, you'll be diving deep into your patterns and coming face to face with the shit that is keeping you from being the badass, powerful, attractive man that you ALREADY are.
If there's a possibility that this is for you, please click this link now, http://www.scheduleyou.in/YvqpCKN, and pick a time to talk with me.
Your brother in Life
Matthew
AMP Enrollment Director