The path to wholeness is a strange and winding road.
I have taken many turns on this journey, but last weeks was perhaps the strangest…and one of the most beneficial.
I participated in Kambo ceremony.
Kambo is the native name for the venom of the Phyllomedusa bicolor or "Giant Monkey Frog".
Amazonian tribes have used this venom ritual to gain strength, immunity and hunting magic. They also say it is helpful in "attracting women."
Obviously, I had to try it out 😉
The ceremony begins with a little blessing, setting the context for the work ahead. At this point, my "woo" alarm started buzzing lightly, but Beth (The Shaman Woman) kept it succinct and brief.
Proponents of Kambo make some pretty sweeping claims, including health benefits to the endocrine system, immune system, antiviral, anti-biotic, and anti-inflammatory effects.
Sounds pretty good, eh?  They might be right.
The Ceremony

The ceremonial "container" is essential to the Kambo experience, and I strongly advise ONLY doing this with a trained and trusted Shaman or facilitator. 
Each person takes the medicine one at a time…which will make more sense the more you hear about.
I was asked to bring a half gallon of water, just prior to getting the medicine, which will also make a bit of sense in a moment.
The Shaman, lights a small stick and blows out the flame, then uses the glowing ember to burn a set of dots on the skin of the arm, leg or back.
Yes, I said she burnt holes in my arm.
She then applied the Frog Venom carefully to each of these holes and had me return to my seat.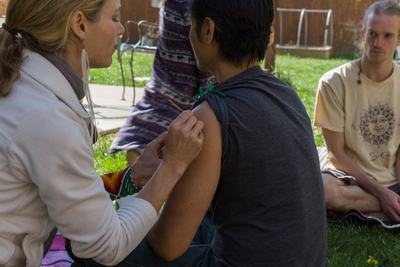 Within a minute I started to know something is up.
My heart was beating deep and hard, I could feel it in my ears.
My face, and especially my eyes felt pressure, similar to having pupils dilated at the eye doctor (If you have ever experienced that.
Then, the suffer fest began.
I felt hot, like an intense fever…and nauseous.  As nauseous as I have ever felt before.
I could feel this "medicine" working its way around my body in the form of subtle pains, stickiness, heat and other sensation.
I felt like I was going to pass out.
It's hard to know how much time had passed in the ceremony but maybe 10 minutes in, I was essentially begging to puke.
Fortunately, I had a half gallon of water on deck and ready to go.
Beth began singing gently and shaking a rattle, which simultaneously seemed to be inviting the the frog medicine and soothing the little me who felt like I might very well be dying right there on the spot.
If you have never booted in a ceremony in front of a dozen or so people that is a journey in itself, but in this case I was so grateful to be letting fly that I had zero concern what anybody thought about it.
The heave came with a thunder, as what seemed like a lifetime of toxic gunk was propelled from my body at an urgent pace.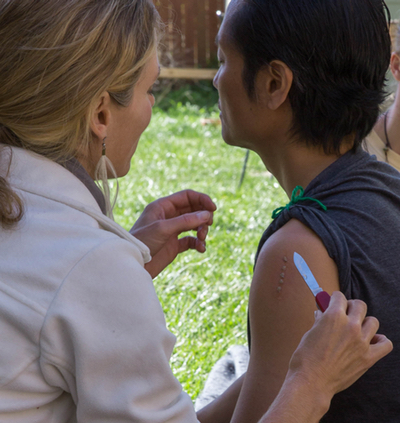 Once I had it all out, I gathered myself and looked out across the lawn.
I felt like I could see WAY clearer than before. Things had a bit of a shimmer to them and a feeling of gratitude and serenity started bubbling up in me.
I noticed I was sweating profusely and pretty worked from the ordeal.
Maybe it was just the relief of the puke and the fever subsiding, but I started to feel…fucking fantastic.
Clarity
I have been a meditator for nearly 20 years and have done a number of long-term retreats, sitting in silence for as many as 7 days.
After this Kambo ceremony, I felt almost exactly the same feeling of coming off a weeklong meditation sesshin, only I got there in 30 minutes.
It's difficult to describe, but it is something like having "more room" in my awareness for things to be.  Like I am still fully myself, but that self resides in a larger field of non-reactive serenity.
Not a bad way to spend a sunday I can tell you that much.
More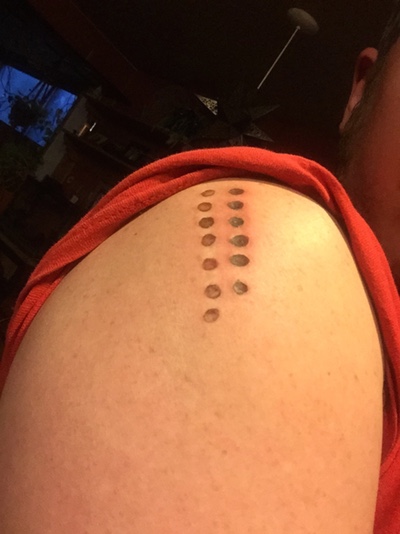 I went for a total of 3 ceremonies with Beth that week.  I apparently, actually did pass out on my second one and was gracefully held and supported by Beth and a brother of mine with more experience with this medicine.
She was tracking me the whole time, and could tell I was having a strong experience.
We went a little lighter on the dose the third time and I was able to lean in and meet it more, having gotten to know the territory a bit.
I have also felt better all week than I have felt in AT LEAST a year and in some ways better than I have felt in a decade.
I don't necessarily want you to take this as a recommendation to try Kambo. It ain't no trip to Cleveland, and I don't want you thinking of me when you are in the fit of it for that first 15 minutes.
I will say that if the frog is "calling you," my experience is that it is a strange and wonderful medicine, not to be taken lightly, but with potentially massive benefit.
Wholeness
We spend much of our lives seeking comfort and avoiding pain. For a few bold shaman types, the path turns upstream and the invitation is to go towards the suffering, the pain, the resistance.
In AMP we often invite men to lean in, to actually feel what they are feeling, including pain, sadness, suffering.
"The best way out is always through" -Robert Frost
We're continually finding that this is a recipe for greater wholeness, the warrior's path to a better life.
In the case of Kambo, it is made strikingly apparent that by turning towards the pain, the reward is that much sweeter.
Massive Disclaimer
This medicine is not recreational and not to be done without the guidance of a trained practitioner.  Beth Leone trained extensively for 8 months with Master Kambo Practitioner, Simon Scott, of  www.kambocleanse.com and co-facilitated hundreds of ceremonies.
I would never have tried this medicine alone and cannot emphasize enough the importance of a solid ceremonial container and trained practitioner.
---
Special Thanks to Beth Leone – Kambo Medicine Woman
Performing these ceremonies has to be an intense and powerful duty. Beth holds it with grace and inspires trust and strength. She creates a powerful and safe container without a lot of ego inserted into it. I am deeply appreciative of her for supporting me in going where I went and returning to this crazy medicine…3 times! 🙂
Thanks Beth.
For more information:
http://kambomedicina.com/