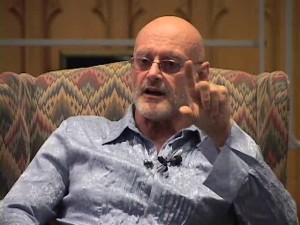 I still am in a bit of disbelief that this recording
happened…
Ken Wilber is a philosopher, meditator, author,
and happens to have one of the most brilliant
brains on the planet — known as the "Einstein of
psychology & spirituality".
Back in the day, Decker and I used Ken Wilber's
Integral Theories to create the "AMP Holarchy" and
our AMP Intensive weekend courses…
In this past year, Decker and Ken have become
good friends — and when they decided to do a
recorded discussion for IntegralLife (Ken's
company),  Ken suggested they discuss the
"Top 10 Inner Game Sticking Points" report.
Now, this was majorly amusing for Decker and I, as
we wrote this thing over 6 years ago, and had almost
forgotten about it…but Ken really seemed to like it,
so they went and had a recorded chat about it.
In this recording, you'll hear:
* Ken and Decker riff on the Top 10 Sticking Points
as seen through the "integral lens"
* An overview of the "5 Biases" of AuthenticWorld
(AMP's "umbrella" company)
* The reasoning behind the marketing style of AMP
and AuthenticWorld
…and much more.
This is a cool opportunity to refresh yourself with
an AMP "oldie-but-a-goodie", and take the ride along
with one of the biggest influences on the work of AMP,
and one of the most brilliant minds our planet has
ever seen.
Download the "Top 10 Inner Game Sticking Points"
Download Ken & Decker's Discussion
Enjoy!
– Bryan